(Return to "Our Home" albumn)
(Return to "Antiques and Collectables" page)
Queen Anne "Lady Alexander Rose" Tea-for-Two


Made in England

A note from Geoff on Saturday 8th October 2005
"I bought this as a 'Surprise Present' for Sharon!!!
The price was terrific!!! ...... and it is ..."






Queen Anne "Lady Alexander Rose" Tea-for-Two

This gorgeous set was made by Queen Anne England,
and the pattern is called "Lady Alexander Rose"
It features an absolutely beautiful pink rose design
on a crisp white background with gilt trim
The set includes two trios, cream jug, sugar bowl and cake plate
There is a tiny black spot under the glaze on the bottom of the plate,
but otherwise all pieces are in very good condition, with no chips or cracks
This is truly one of the prettiest patterns I have seen
Don't miss the opportunity to own this complete set!!
Item location - Melbourne, Victoria Australia


This auction ended on Saturday 8th October 2005
The starting price was set at $19.99 and there were six bids during the auction
Ours was the winner!!! - at $32.99 plus postage
Here is another photo of the set - taken after delivery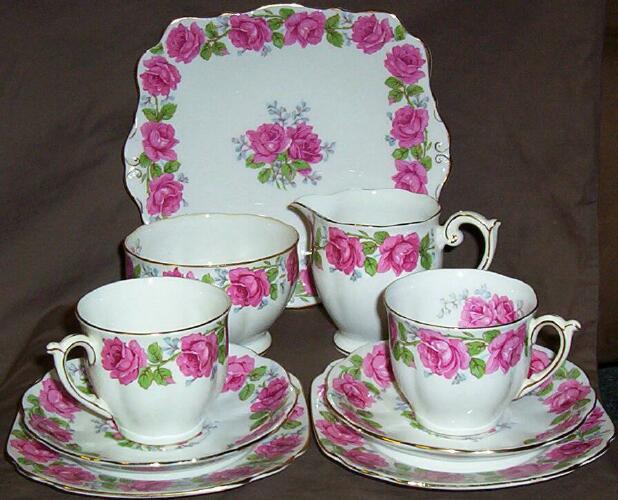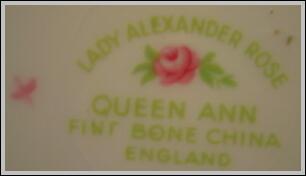 The photo and pricing information below is from



and click on the logo to go to their web site
or click here to go directly to the "Lady Alexander Rose" items page
(these pages/details were available as at Saturday 8th October 2005)
Queen Anne "Lady Alexander Rose"
Pattern Description - Pink Roses, Green Leaves
Cup and Saucer Set (Flat) - 2.750 inches - 3.125 inches - USD$45.99

(our cup has the same measurements as this
and the saucer has a diameter of 5.750 inches)

Bread and Butter Plate - 6.375 inches - USD$18.99

(our plate is 6.125 inches square)

Mini Creamer (Plain) - 2.750 inches - 4oz - USD$14.99

(our creamer stands 3.500 inches tall
and is 3 inches across the top)

Mini Open Sugar Bowl (Plain Edge) - 2.250 inches - USD$29.99

(our bowl is 2.750 inches tall
and is 4.250 inches across the top)

Handled Cake Plate - 10.250 inches - USD$109.95

(our cake plate is 8.500 inches from handle to handle)
NOTE #1 - also listed is a "Mini Creamer and Open Sugar Tray Set" - USD$94.95
NOTE #2 - also listed is an "Open Sugar Bowl (Plain)" - 2.250 inches - USD$56.99
and I am not sure which is which so I added up using the lower prices

Now, as you can see, there are variations between what we have
and the measurements at Replacements Ltd
But having a "guess-timate",
you could say that our items are in the range of USD$200.00/$250.00
which, at today's exchange rate, equals $260.00 to $320.00 Australian dollars!!!
Not bad for an outlay of just thirty-three bucks!!!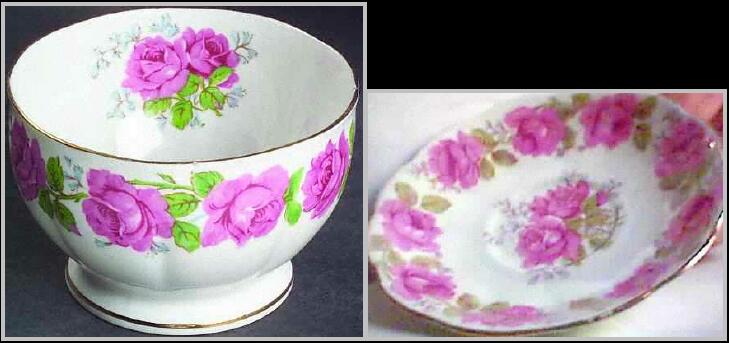 This is a query I sent to the seller during the auction
Hi and I hope I am not too much of a nuisance!!!

I am interested in bidding on this item and have tried to look at the 'supersize' photo of the set
However, only another small one is displayed
Are you able to alter the picture on Ebay or send it to me direct???

Thanks
Geoff
This email was sent to the seller when the auction ended......
Hi, and I am glad I won - it looks a very nice set!!!

If you let me know the postage and insurance cost up here to Cairns (4879), I will make an immediate direct deposit

I also wrote earlier about a 'supersize' photo that wouldn't display
I bought this item as a surprise for My Darling Wife and I would love to have a copy of that large photo to show her!!!
Can you send it to my email address - I would really appreciate it!!!

Thanks
Geoff
.....and I followed it up by sending this note
It is fairly self-explanatory!!!
Hi again
My name is Geoff and I was the winner of the "Queen Anne" auction

I have already contacted you via the Ebay Contact System about obtaining a copy of the 'supersize' photo that would not display on the auction page

I was just looking at the item again - and thinking I was lucky!!!
--- but have noticed something that concerns me

This is a copy of the backstamp photo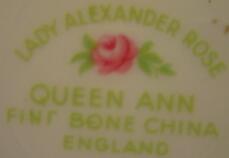 --- and I have just noticed that there is no "E" in the name Anne

I am no expert in china!!!

I saw that in your item description you wrote it as Anne
--- so I have spent a bit of time looking around other Ebay auctions and other places on the internet for Queen Anne items, and all of them spell the name with an "E"

Does the "E" appear in any of the other items in the set???

My concern now is to whether the set is a genuine Queen Anne or maybe a copy

I am sure that you don't mind me asking you these questions

I have made over 50 Ebay purchases and every single feedback I have received has been positive

I look forward to hearing from you before making the payment

Regards
Geoff
I then received this invoice......
Dear "geosha1"
Thank you for your purchase
The total for your item is $47.49 (includes $14.50 for postage)
......so I sent another email to the seller
I will be making the payment as requested immediately via direct deposit

I fully understand that Ebay is a BUYER BEWARE system, but I will admit to being totally surprised that this invoice was sent with no reference to my notes and emails re the larger photo and the spelling of the name 'Anne'

Still, fifty bucks is no big deal, and I'll just throw the set in the nearest bin if it proves to be a copy!!!

Geoff
Another note to the seller after delivery
Hi
and a note to say that the Queen Ann set arrived in Cairns in perfect condition
My wife loves it!!! --- and it will take pride-of-place in one of her display cabinets!!!

I am still a bit mystified as to why you did not answer my emails or notes through the Ebay Message System

I have left "Positive Feedback" at Ebay

Regards
Geoff
......and a reply from the seller
Hi Geoff

I'm so glad the set arrived safely
It is really beautiful, isn't it?

I'm sorry I didn't reply to your messages - my computer's been playing up a lot lately
I will leave "Feedback" today

Thanks again, Geoff
Have a lovely day

Warm regards
Valerie

Monday 10th October 2005 - the following email was sent to
"Parcels of Time" Collectible Dinnerware and China
Gales Antiques
Replacements Ltd
The Potteries
Small Island Trader
Hi, and I am hoping you can assist me

I have been given some china and a photo of the backstamp is attached (photo as above)
The name is - Queen Ann "Lady Alexander Rose"

Is there a manufacturer using Queen Ann (without the "E") as well as the "more normal" Queen Anne type???
Is this china I have been given probably a 'fake'???

I have searched all over the internet and every reference spells it as Anne, and not Ann
I would really appreciate your assistance

Thank you very much
Geoff
......and a reply from Gales Antiques
Hi Geoff

We've only seen it with an "e" too, but sometimes there were mistakes made with the backstamps
I don't think it's a fake - it's not worth anyone's while to fake a tea set really

Cheers
Sue and Robert Gale
......and a reply from Replacements Ltd
Dear Mr Roneberg

We do not have a way of telling if the china is a fake or not
Most of the times it could be just a miss-print or stamp error
When a new stamp was made it could have been wrong and the manufacturer did not want to pay for a correction and used the stamp as it was

I did pull our stock and the spelling is the same as your china

There is so little known about the company

Thanks
Shirley
Research Customer Service

Queen Anne "Lady Alexander Rose" Cup and Saucer

Item location - South Western Ontario Canada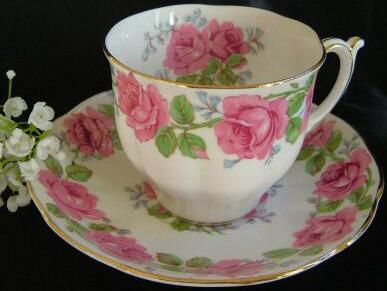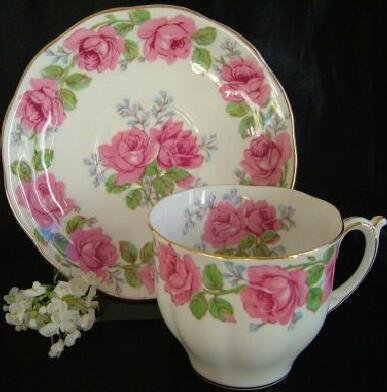 ......and the backstamp is the same as ours!!!......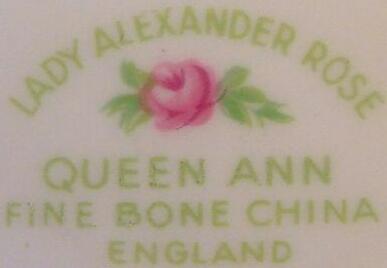 This auction finished on Wednesday 19th October 2005
The starting price was set at AUD$10.60 and there were ten bids during the auction
The final price was $37.32
......and that is MORE than what we paid for a set!!!
We have two of these cups and saucers!!!
......plus two plates, a jug, a bowl and a cake plate!!!
Looking to be "a good deal!!!"
---


---